Integrated Amplifiers & Receivers

MD 209 Hybrid Integrated Amplifier & FM Receiver
The MD209 is the only receiver made in North America. It incorporates the amplifier from the MD306 that we couple to our Reference quality RF section from the MD108T and MD109. It also uses the same Sifam precision meters as the 108T. This receiver offers a tremendous value to our customers. Many customers are downsizing their systems and they can do so without sacrificing quality.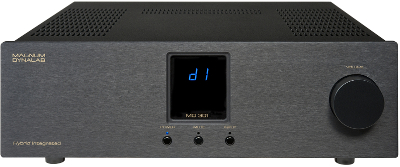 MD 301 Hybrid Integrated Amplifier
This is our entry level amplifier that offers great performance with the same design philosophy as our top of the line products. A Hybrid front-end with a single tube, TRACC audio control and Sanken outputs.