Magnum's Dynamyte Series — Music Streamers, Amplifiers, FM Tuners — won't just give you one streaming service on our Music Engine and Music Audio Streamer but virtually every leading service. So you get Tidal, Roon, Spotify, Deezer, Qobuz and MQA for master quality playback. You also get the world's leading internet tuning server V-Tuner built in so you get over 10,000 internet radio stations and podcasts.
TIDAL
TIDAL is a global music and entertainment platform (available in 52 countries) that brings artists and fans together through unique music and content experiences.
TIDAL has over 57 million songs in its catalog and over 230,000 high quality videos, offering passionate music fans both a premium and high fidelity sound quality, along with high resolution video, and expertly curated editorial content.
TIDAL has the commitment of artist owners that believe in creating a more sustainable model for the music industry. The TIDAL artist-owners are Alicia Keys, Arcade Fire's Win Butler and Regine Chassagne, Beyoncé, Calvin Harris, Coldplay's Chris Martin, Daft Punk, Damian Marley, deadmau5, Indochine, J. Cole, Jack White, Jason Aldean, Shawn "JAY Z" Carter, Kanye West, Lil Wayne, Madonna, Nicki Minaj, Rihanna, T.I. and Usher.
TIDAL brings music fans closer to their favorite artists and gives on-demand access to discover new music from its music and video catalog. TIDAL's catalog includes exclusive videos and songs featuring the world's top musicians, athletes and entertainers and up-and-coming independent artists. It also offers the ability to participate in unique real life experiences such as concerts with established or emerging artists and other direct interactions between fans and their favorite artists. TIDAL also provides a choice of both premium and HiFi music quality that enables fans to experience music as the artists intended it to be heard.
Spotify.com
Choose among millions of available tracks on Spotify. You can browse through the music collections of friends, artists and celebrities, or create a radio station and just sit back. You can subscribe or listen for free.
Roonlabs.com
How Roon works
Roon is built differently than most audio systems.
Roon consists of a single core and as many controls and outputs as you need. This means you get the same Roon experience whether you're running on a single PC or on devices around your home.
The Core
A Roon system starts with a core – it's the traffic cop, the housekeeper, and the brains behind the operation.
PC storage
USB storage
Roon metadata
iTunes library
NAS
core
The core manages your music collection from many sources, and builds an interconnected digital library using enhanced information from Roon.
The core can be your Mac or Windows PC, or a server from one of our hardware partners.
Roon requires a Core of recorded music to work with so is a little different from the other streaming services. It integrates very well with Tidal. Go to the Roonlabs.com to learn more.
Deezer.com
Deezer lets you play the music you just have to hear, instantly.
Jump in and explore over 53 million tracks (and counting), and discover artists and tracks you'll love with personalized recommendations from the Deezer Editors.
Deezer works across all your devices, both online and offline, with no listening limits. It's music at your fingertips for waking up, getting going, chilling out, living life.
Find new loves and old favorites from over 53 million tracks. Discover the perfect playlist or make your own, and browse curated collections by genre. Play everything from the Top 40 to unsigned acts on all your devices.
Deezer learns more as you listen, and makes personalized recommendations for you. You'll find the newest music, sports, podcasts and whatever else you're into delivered right to your pocket.
Craft your collection.
Create your music library from millions of playlists, albums, Mixes, and more, then take it with you wherever you go.
If you've already started building your collection, you can import your favorite MP3s and playlists. You listen to all of it in high quality audio.
Qobuz.com
Real music begins with authentic sound.
Discover the most comprehensive CD quality (Hi-Fi) catalogue in the world, and the largest selection of albums in studio quality (Hi-Res).
Three levels of audio quality available for streaming
MP3
Standard quality
MP3 320 kbps
CD (Hi-Fi)
High quality
FLAC 16-Bit / 44.1 kHz
Studio (Hi-Res)
The best quality in the world
FLAC 24-Bit up to 192 kHz
How do I experience the benefits of Qobuz?
Three ways to discover millions of tracks in the best quality possible
Stream — Qobuz is your source for the best sound quality and unlimited listening, anytime, everywhere, on all your devices. Download — you can also buy your favorite albums and tracks in Hi-Res in our online store. Both — Qobuz is the only music platform offering a plan that includes both streaming and downloads.
MQA.co.uk
MQA is a new and revolutionary digital encode/decode process that starts out in the mastering studio and then unfolds in your music player to give you to studio performance through your system The Magnum Dynalab streaming devices and high definition DAC's have this built in.
MQA captures 100% of the original studio performance. It then cleverly adapts to deliver the highest quality playback your product can support.
After capturing the performance, MQA folds the file to make it small enough to stream.
We call this 'Music Origami'.
MQA can be fully approved in the studio. With our studio toolset, all playback scenarios can be previewed.
Explore different levels of 'unfold'
MQA will play back on any device to deliver even higher than CD-quality. 
MQA Core Decoder
This unfolds the MQA file once to deliver even higher than CD-quality. It is included in some products with digital outputs such as Bluesound, Pioneer and Onkyo players, as well as streaming services such as TIDAL and media players like Audirvana.
The first unfold recovers all the direct music-related information. Output is 88.2kHz or 96kHz.
MQA Renderer
These products feature an MQA renderer which can complete the final unfold. Renderers can be great portable products such as USB DACs.
An MQA Renderer will include 'stream lock' but is not able to decode an MQA stream or authenticate it.
MQA Full Decoder
Products with a full MQA Decoder unfold the file to deliver the highest possible sound quality. At this level of playback you are hearing what the artist created in the studio – with precise file and platform specific DAC compensation and management.
V-TUNER
A Global Service For Your Product
V-Tuner's 15+ years of expertise in delivering an Internet Radio experience to over 200 products from over 100 partners in almost every corner of the world uniquely positions us as the best partner for adding Internet Radio to your products.
V-Tuner supplies millions of songs and tens of thousands of radio stations and pod-casts to our tuner. Vtuner is built is built in to your Magnum Dynalab Streamer or Internet tuner.
MDT-1MS – Music Streamer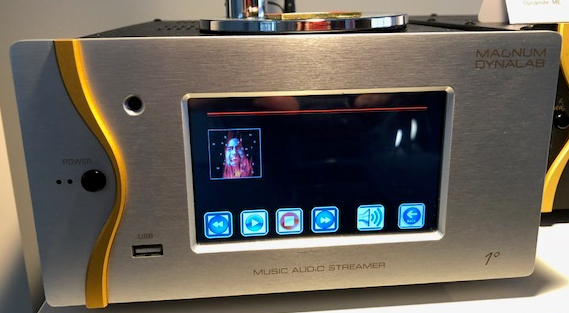 The MDT-1MS Music Streamer is Magnum Dynalab's all in one streaming and media solution.
In addition to the same features as the Music Engine it includes our TRACC triode tube audio section for analogue playback and our HD-USB to 24/192 Asynchronous ESS Sabre DAC with sampling to 384 and DSD.
MD-1ME – Music Engine
Magnum Dynalab's MD-1ME Music Engine provides the latest in streaming services, internet radio stations, multi-zone control and MQA playback. It is designed for the serious audiophile that already has a good quality DAC in their system as it only offers digital output.
Contact Us
Contact Magnum Dynalab to learn more about our new Dynamyte Series including our Music Streamer, Music Engine, Amplifers, FM Tuners.
Product Enquiry: Online Product Enquiry
Tel: 905-791-5888
Toll Free in North America: 1-800-551-4130
Email: info@magnumdynalab.com