The MD 108
Hybrid Analog Reference FM Radio Tuner
In a world given to compromise, Magnum Dynalab has conceded nothing in its approach to building the MD 108 FM Radio Tuner. Known for manufacturing FM Tuners of unparalleled quality, famous for their balance of Sensitivity, Selectivity and Sonic performance, the quality of sound reproduced by the MD 108 FM Radio Tuner is and will remain legendary.
Designed and constructed with the music lover in mind, the MD 108 FM Radio Tuner is a hybrid tuner utilizing a truly new ANALOG R.F. section with precise MAGIC EYE tube tuning and a separate audio stage developed to exacting standards, utilizing two 12 AX 7 tubes in the audio switching stage.
Dual MATRIX EYE Tube Tuning


Three Ultra-Sensitive Bandwidth Settings


Low Noise Dual gate MOSFETS


Custom "Potted" Torroidal Transformer


Five Stage Tuning Front End


Two Antenna Inputs


Hand Matched Resonators


Auto Blend RF circuit
A precision tuning pot ensure optimum resolution from the five stage varactor front end. With three ultra-sensitive bandwidth settings and enhanced selectivity, you are ensured the best possible signal from any of the four antenna inputs (two analog, two digital), each selected from the front panel. An exclusive muting circuit eliminates unwanted inter-station noise (auto blend circuit). To verify performance, the MD 108 FM Radio Tuner employs two accurately calibrated taut band analog meters to indicate multipath and signal strength. In unison with these meters, a unique dual MATRIX EYE tube for centre tuning means there is little guess work in optimizing FM radio reception. Low noise dual-gate MOSFET transistors and hand matched resonators mated to double-sided, plated circuit boards provide peak performance. The logic circuit which controls the tuner operation uses C-MOS technology, which has very high noise immunity making external transients of little impact. The logic circuit is controlled by gold plated momentary switches. With the switches always in a uniform position, the MD 108 FM Radio Tuner maintains a clean, aesthetically pleasing appearance.
Not to be outdone by the specially designed front end, a separate CLASS A audio stage was designed. Using components and technology, worthy of the signal being received from the front end, the audio stage, using two 12 AX 7 tubes in the final stage and a discrete amplification system is designed to capture the ambiance of the music. The BALANCED circuit using a pair of bi-polar low noise transistors are cross coupled to ensure a precise BALANCED signal to match your other higher performance components. The Magnum Dynalab MD 108 FM Radio Tuner establishes the new benchmark by which all other tuners will be judged.
The MD 108 FM Radio Tuner is specially packaged in an instrument-case to ensure the safety and care of the product.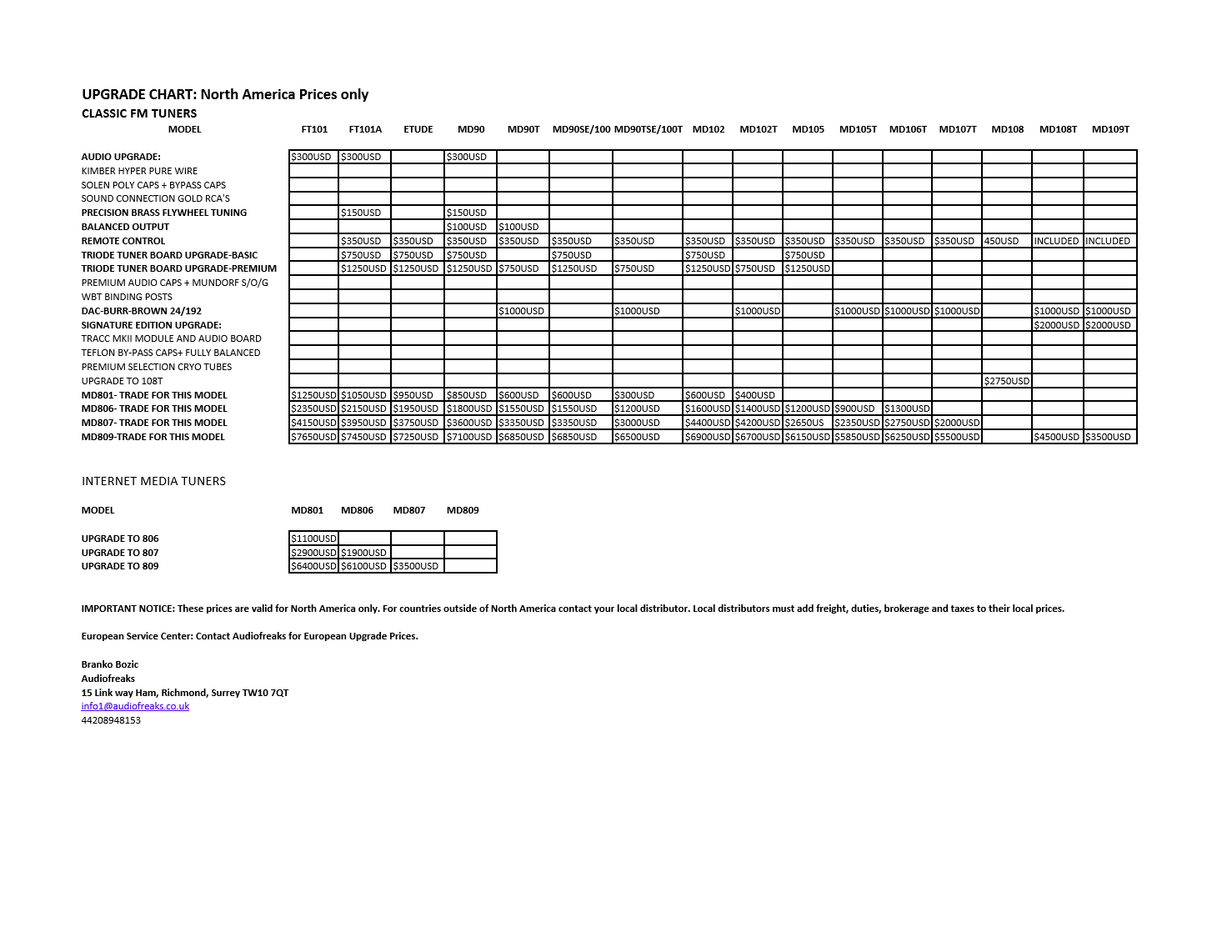 The Precision Analog Remote System
The Precision Analog Remote System is now available as an option on all production Magnum Dynalab FM radio tuners, receivers and as an update to all previous Magnum Dynalab FM radio tuners and receivers. Click here for details.
Please note that the MD 108 has been discontinued. It has been replaced by the MD 108T Triode Tube FM Tuner
Analog FM Tuners from Magnum Dynalab
Triode Tube FM Tuners from Magnum Dynalab



Upgrade to Internet Radio
Upgrade your MD 108 to one of our new Internet Radio Tuners

Imagine a tuner that, when played, sounds as good as a CD player. Imagine also, that the tuner can bring in fringe stations which most of our local audiophiles don't even know exist. To top off these features, imagine the finest, most detailed amplifier you have ever listened to--and you get close to that experience when you listen to this tuner.
Read on ...

The Inner Ear



Sound is stunningly life like, bass is tight and solid, textures are delicately rendered, and the transparency achieved by the best broadcast sources is astonishing. All this is enhanced by the MD 108's absence of birdies and other intrusive noises. Of the nearly 10,000 FM stations and translators in the US, many offer spectacular sound; those lucky enough to live within reception of the best should hear it through the MD 108. It might just amaze them that FM can sound so good.
Read on ...

Stereophile



All of the visitors to our studio practically stopped in their tracks to look at the MD 108... everyone remarked that the sound quality was superb. The Magic Eye glows seductively in the dark and gets one in the little old audiophile soul.
Read on ...

The Inner Ear



Raises the bar? We need taller posts now. This is the most fantastic tuner you can buy today, and if you are really hardcore about your airwaves, this will set you salivating ...
Read on ...

HiFi+